About eight years ago, as a college student in Asheville, North Carolina, I didn't have much money at all, but also was getting really interested in yoga. Enter the Dave Farmar Power yoga podcast. In addition to a couple studio classes and the YMCA (where I worked the front desk for years), this was how I became addicted to yoga. Dave Farmar taught in the power yoga style founded by Baron Baptiste.
Fast forward a few years to Stavanger, Norway...I was still sweating my butt off (in a 250 sq. ft. studio apartment) to Dave Farmar. I love this very active style of vinyasa yoga, but it took a backseat to Ashtanga once I found Bristo Yoga School in Edinburgh, UK.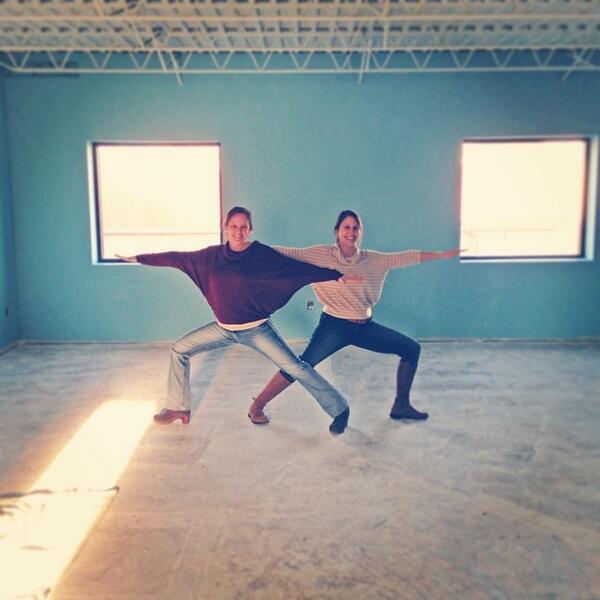 Fast forward again to now, 2014 where local yoginis Sarah K. Smith and Cat Larimore are opening the first Baptiste Power Vinyasa Yoga studio in Louisville: 502 Power Yoga.
I've been twitter + yoga pals with Cat for a few years (still cannot believe we haven't met IRL...we will soon definitely!) and when I found out she was opening a studio, I was beyond thrilled.
"Louisville needs this and it will be fabulous."  
They are offering a pre-opening special: $25 for 40 days of unlimited classes. Amazing!
Located at 2210 Dundee Rd, right in the Historic Douglass Loop. Perfect.
Their website is already flawless with info on teacher training, an energy exchange program, and a great schedule. Of course most classes are while I'm teaching my own, but I am going to really try and make an effort to get to classes...I need human interaction when I practice for a change!
Find them on Facebook or Twitter.
Local yogis: use the hashtag #502py and you'll be featured on their community page!
If you want to get a sneak peek, head over to the Louisville lululemon showroom  Saturday morning January 25th + February 1st at 8:45am for free (yes, as in complimentary!) classes from the 502 Power gals. I wish I could go, but alas, I'll be teaching my own classes. 
I can't wait to get out there and power vinyasa again!